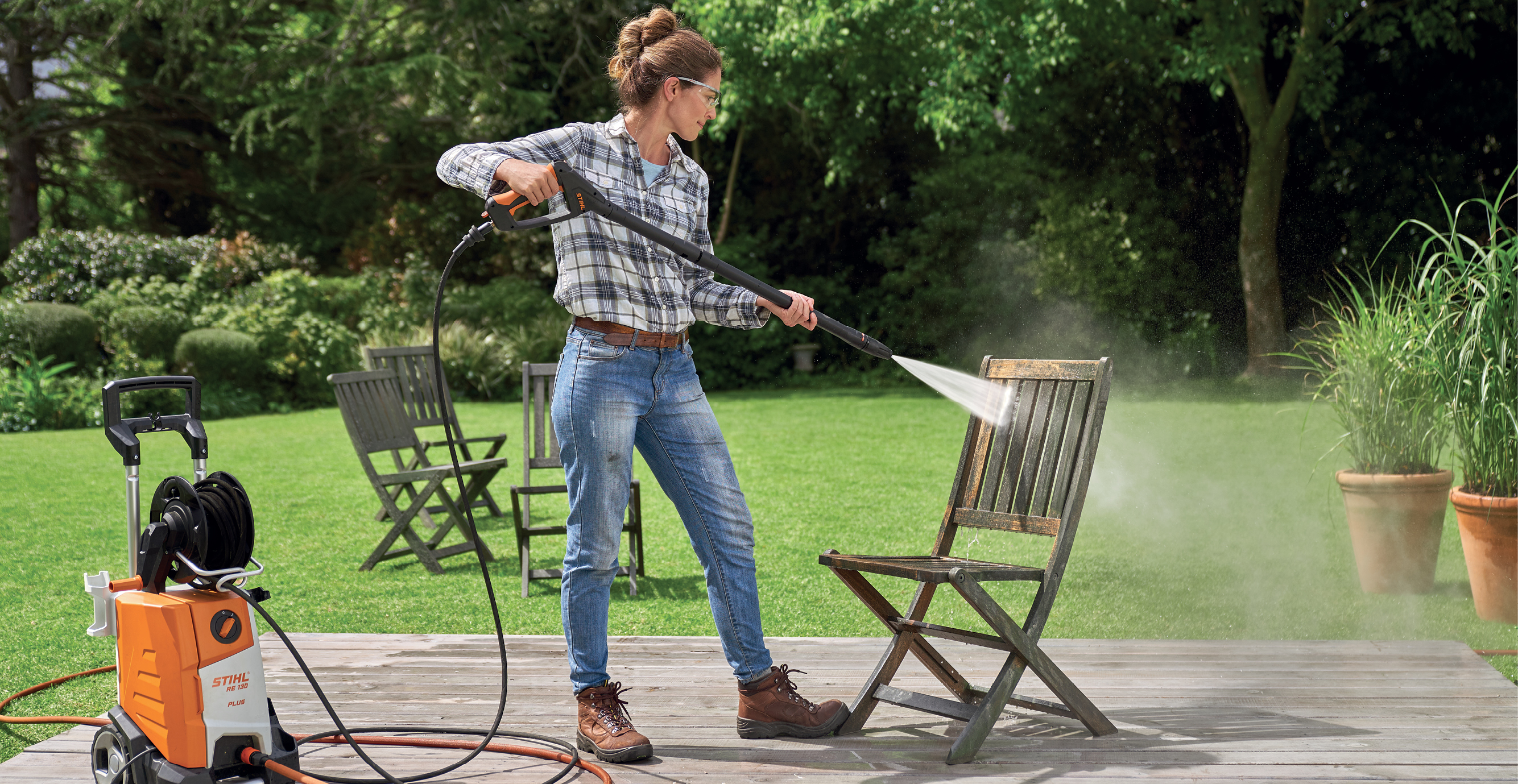 Giving your outdoor furniture a thorough clean will boost the overall appearance of outdoor area and keep your furniture in good condition for years to come. Depending on the type of furniture that you have, there are different ways to approach this. Here are our tips for wooden and metal materials using a high-pressure cleaner.
Tips for cleaning wooden garden furniture
Wood is a beautiful and timeless material that can give you many years of handsome service – with the right care. However, as with all natural materials, there are a few things you should be aware of when it comes to cleaning wooden outdoor furniture.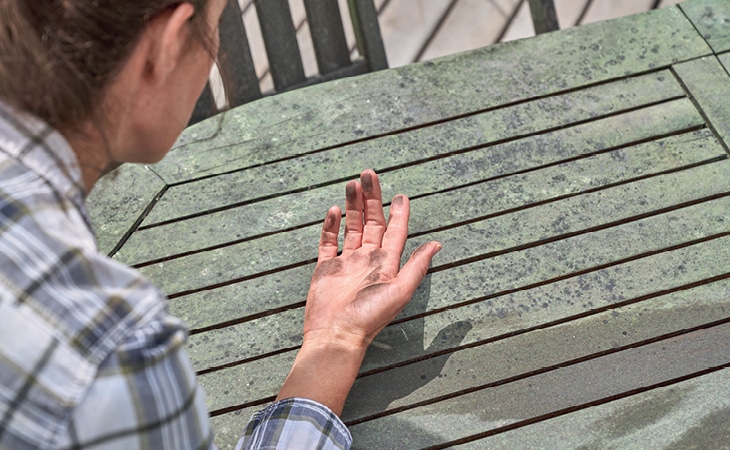 The right way to clean wooden garden furniture varies depending on the exact type of wood. The natural properties of hardwoods such as teak, eucalyptus and robinia make them great choices for low-maintenance outdoor furniture, as they are weatherproof, do not turn grey as quickly as other woods and can handle fairly robust cleaning. This means that, with a few precautions, you can clean these types of wood with a high-pressure cleaner such as the STIHL RE 130 PLUS.
The easiest way to get your wooden furniture thoroughly clean is to use a high-pressure cleaner. However, do bear in mind that no matter what type of wood your furniture is made from, and no matter how robust, we recommend that you avoid directing high-pressure water jets directly at it, and instead recommend that you use the STIHL surface wash brush to clean wood surfaces. This ensures powerful yet gentle cleaning as well as efficient water use.
If you can't get the job done with the brush alone, the fan jet nozzle can also be used – but make sure to keep the pressure setting low. This is particularly important if you are using it to clean painted wood furniture, as excessively high pressure can cause the paint to crack and then chip at a later stage.
How often should I clean my wooden garden furniture?
We recommend at least three times a year, with the first cleaning at the start of the warmer seasons, the second in summer, and then a final clean before you put your wood furniture into storage for winter. Bear in mind that you should only clean wood furniture when night-time temperatures are above freezing – this is because its needs to dry out completely after you clean it, and any ice crystals that form at low temperatures will damage the wood.
The most important thing to remember when cleaning your wooden garden furniture is that you should never use aggressive cleaning methods, hard wire brushes or rough sponges to clean it, whatever type of wood it is made from. These can cause micro-damage to the surface, which then makes it easier for dirt to be deposited on the wood. If you combine gentle cleaning with some regular maintenance steps, your garden furniture can be enjoyed for a long time to come.
For oiled and varnished wood furniture, we recommend an annual reapplication of the finish. Painted wooden garden furniture should be examined regularly for chips and touched-up or repainted when necessary.
Tips for cleaning metal garden furniture
We recommend that you routinely clean your metal garden furniture thoroughly ahead of winter, and again during summer. The good news is that metal garden furniture is designed to last and to be easy to clean. That said, the various types of metal furniture have different characteristics, so first identify if yours is cast iron, wrought iron, powder-coated or painted metal.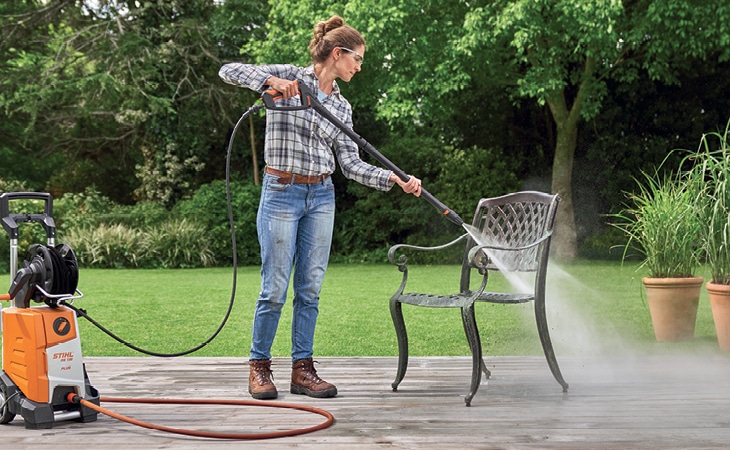 Cast iron and wrought iron furniture
Iron garden furniture is really easy to clean. Because small areas of corrosion are often a rather desirable addition to its country charm, cleaning should focus on removing more substantial dirt and plant matter. This is most easily done using a high-pressure cleaner with a rotary nozzle, which offers powerful cleaning and quickly removes stubborn dirt on non-sensitive surfaces. If you do choose to use an additional cleaning agent, you can attach a cleaning agent spray set to your high-pressure cleaner and use this to apply the cleaning agent all over your garden furniture. Leave it to act for a few moments and then rinse with clean water using the fan jet nozzle. You're all done! Just leave the furniture to dry.
Powder-coated and painted surfaces
It's no more complicated to clean powder-coated and painted garden furniture than cast iron items, so a high-pressure cleaner will still make light work of the job. However, you do need to be aware that the strongest jets are extremely powerful and risk damaging these surface finishes. To avoid problems, use the lower pressure settings and a fan jet nozzle rather than a rotary nozzle.
When should I clean my metal garden furniture?
For coated and painted metal garden furniture, you should give it a thorough clean at the end of peak gardening seasons, or once or twice a year. A quick clean to remove dirt every four weeks or so through the season; then another thorough clean before it goes into storage, to ensure that there is no contamination that will damage the finish over time.
OTHER WAYS TO GET THE MOST OUT OF YOUR STIHL HIGH-PRESSURE CLEANER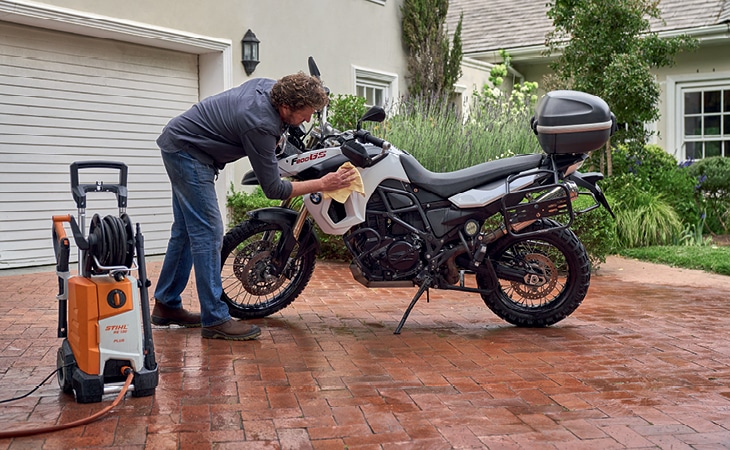 High-pressure cleaners are one of the most versatile cleaning tools on the market, and come in handy more ways than you might think. STIHL has a wide range of electric and petrol high-pressure cleaners and attachments available to help you do all of the above and more, including your bikes, your bins, even your car.  For occasional home users, or professionals that demand nothing but the best, the range covers just about every application. Click here for more ways to get the most out of your STIHL high-pressure cleaner. 
View the full range for everything you need to transform your outdoor furniture, or visit your local STIHL Dealer.