There are many myths out there, some with valid reasons behind them and real benefits, and others… well, not so much. Trevor Cochrane, from Garden Guru's, is always getting requests to debunk stories that have been passed down between generations in families, with each story inevitably changing over time. Here are the most frequently asked garden myths and questions that Trevor gets asked. 
Is it better to mow your lawn fine or let it grow long? 
It's a strange one because our preferred mowing height is something that varies by state. West Australians are obsessed with the bowling green look, while Victorians generally are happy with a shaggier grass covering. So, what's better? Well the truth is, more cover in winter means less weeds, a healthier looking lawn and fewer problems, but come summer you can go either way. I think the type of grass you have also determines the height you choose. With broadleaf grasses like Buffalo and Kikuyu being better left a bit longer while fine leaf forms such as Couch or Zoysia grass look better in a manicured environment. STIHL battery lawn mowers feature a single lever height adjustment making it suitable for just about every lawn and season of the year. Be sure to do your research on your grass type to determine the best height setting for it.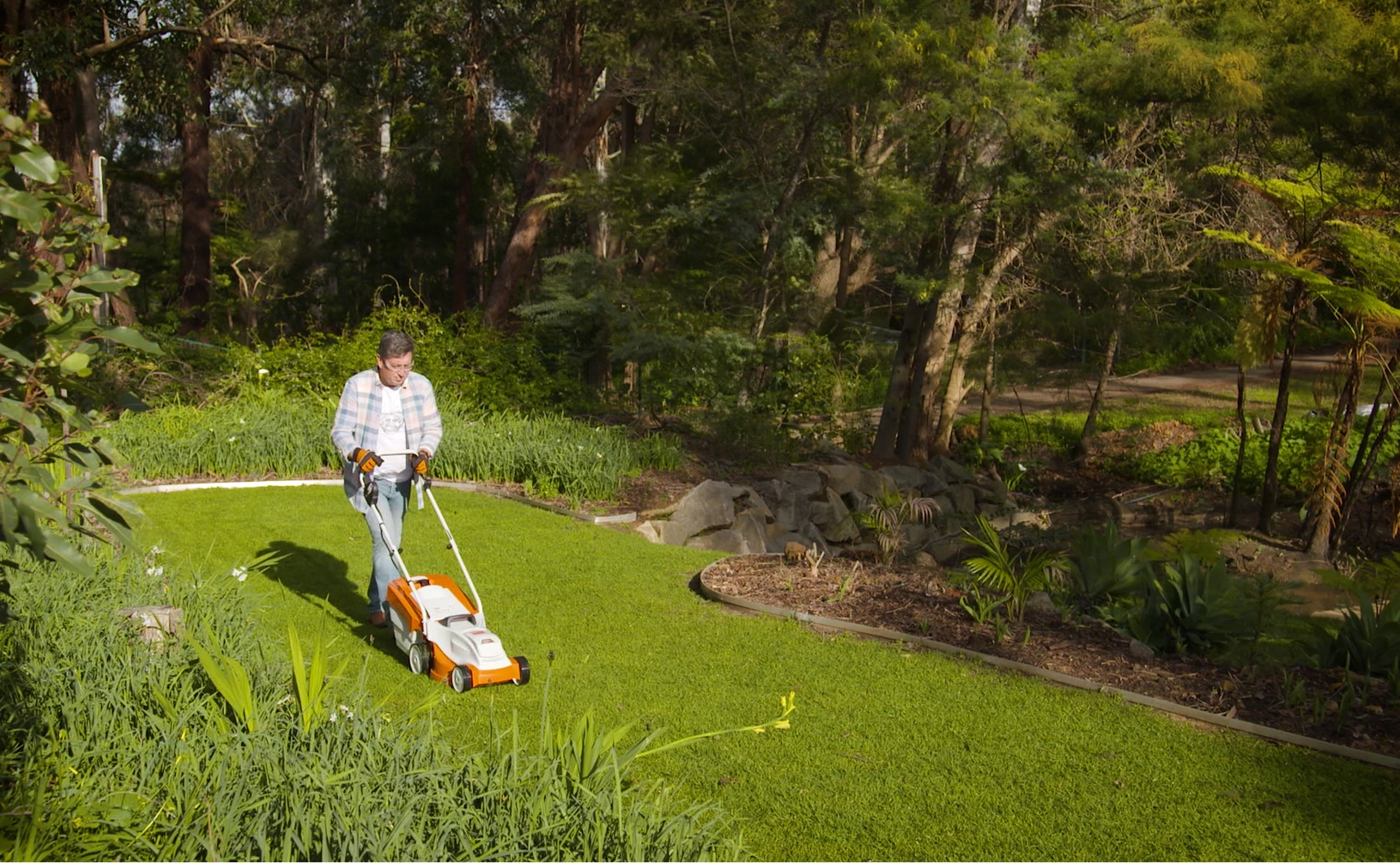 ARE TOMATOES POISONOUS?
On first reaction you'd have to say absolutely not, they are good for you. But the truth is pretty much every part of a tomato plant is toxic and cannot be consumed without serious risk to your health. That is every part but the fruit of course, which is exceptionally good for you. The red colouring in tomatoes is a plant phytochemical called Lycopene which is exceptionally good for you in many ways, as it's a rich source of antioxidants. In fact, it's said to be exceptionally important for good prostate health, something men do not like discussing but something that kills more men than breast cancer kills women these days. 1 medium sized fruit a day has a significant beneficial effect for men and if they are consistent and consume at least one fruit (around 60 grams) a day the effect can be startling. One other thing that's amazing about tomatoes is the fact that unlike most other fruits that start losing goodness and caloric value immediately after being picked, tomatoes actually increase in lycopene intensity, and again when cooked increase and not lose value which more commonly happens with other fruit. 
SHOULD I MOW IN A CONSISTENT DIRECTION AND PATTERN TO ACHIEVE A PICTURE-PERFECT FINISH TO MY LAWN?
Some might struggle to hear this, but it's true. Mowing in a random pattern will actually give you a better, more consistent finish and encourage your grass blades to grow straight up giving your lawn a more consistent look all over. Don't feel that you need to mow in a zig zag, but try to mow in different directions each time you mow and you'll start to notice a difference in no time. If you're really chasing a perfect lawn, then the new robotic mowers by STIHL will allow you to achieve that with impressive ease.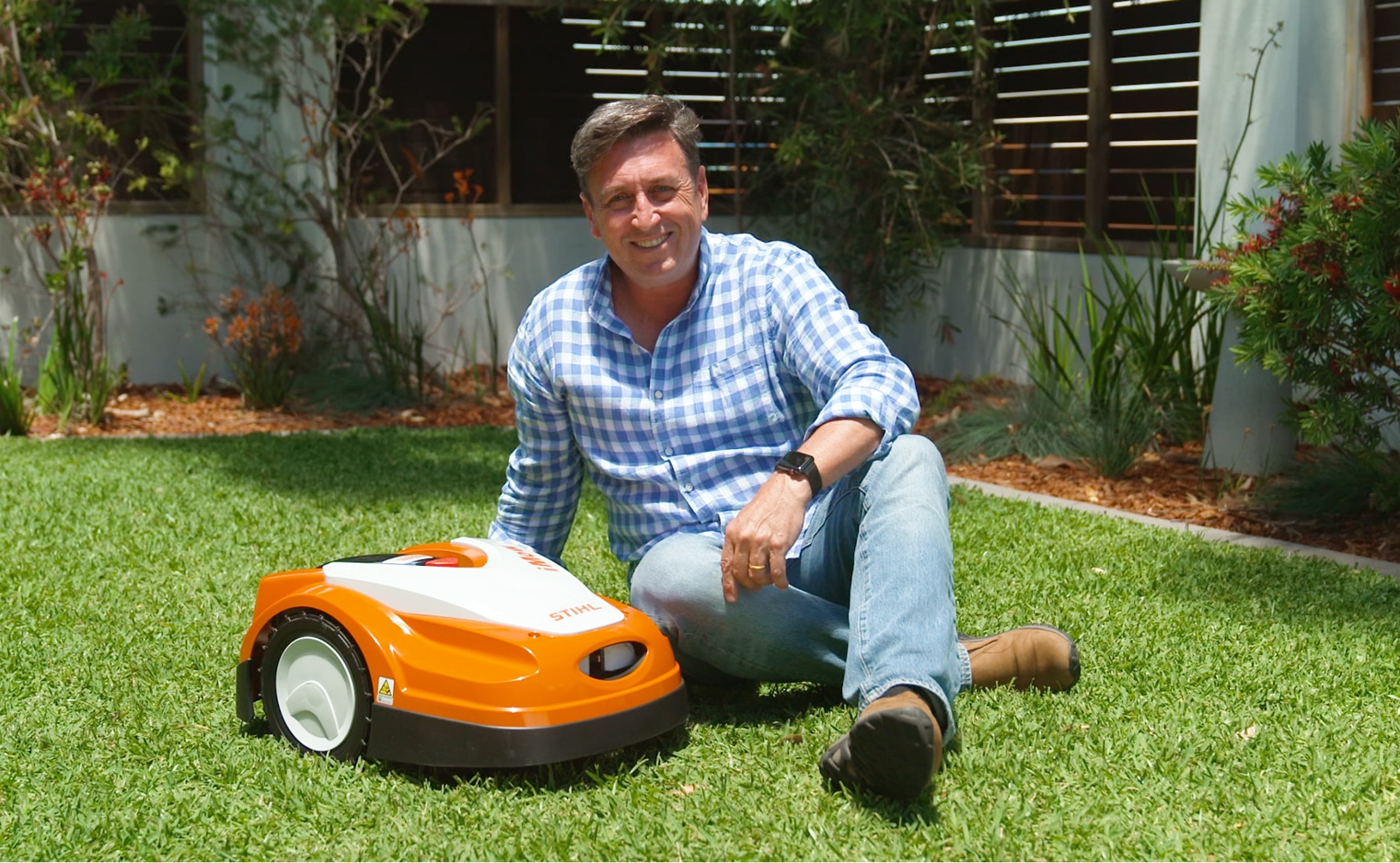 IS POURING SOAPY WATER GOOD FOR FIXING WATER REPELLENCY IN SOILS?
The answer is yes and no. Like so many things it is good initially as it will wash the water repellent waxes from the organic particles that cause this problem. The trouble is the high level of Phosphates in the soap which can make the soil quite toxic and cause all sorts of problems. The real answer is no it's not a good idea to be mixing soap into water and applying it to garden beds. 
WILL PRUNING MY TREES CAUSE DAMAGE TO THEM? 
Not at all, pruning is the key to healthy trees and should be done annually in autumn at a minimum. Pruning should be undertaken to remove wayward branches from damaging surrounding structures such as your home, as well as to remove limbs that are either dead, diseased or damaged, especially after a storm. While pruning can be done at any time of the year, there are a few reasons why I would suggest doing it in autumn. Firstly, the weather is cooler, your trees won't be distressed by extreme heat or sub zero temperatures. And secondly, whether deciduous or not, trees tend to have less foliage during autumn, allowing you to really assess and see what you're cutting safely. Click here for our top tips for pruning during autumn. 
IS TREATED GREY WATER DANGEROUS?
Treated grey water is a valuable asset, and wasted if it's sent to storm or waste water. In saying that grey water, the water that comes from the shower, bath, sinks and kitchen sink must be treated and isn't to be sprayed around the garden via sprinklers, its best delivered by drippers or through sub surface irrigation after being treated to remove particles and to activate the bacteria that break down excess nutrients. 
THE FRESHER THE WOOD, THE BETTER THE BURN. 
This is a common misconception about firewood, especially by those that don't use a fireplace as a main source of heat in their household. It might surprise some to learn that it can actually take anywhere from six months, right up until two years for cut wood to be ready for burning. As a rule of thumb, the drier the better is best. Fresh wood harbors moisture which can in turn leave you with lots of soot and smoke in your house as it struggles to burn, whereas dry logs will produce a nice clean burn. To achieve a nice, clean burn all winter long, make sure you're cutting wood all year round, and storing in a place that is sheltered from rainfall. Smaller logs also take less time to dry out, so if you're running low, this is an easy way to speed up the process. There's a real art to collecting and preparing firewood ahead of winter, click here for more tips on firewood storage.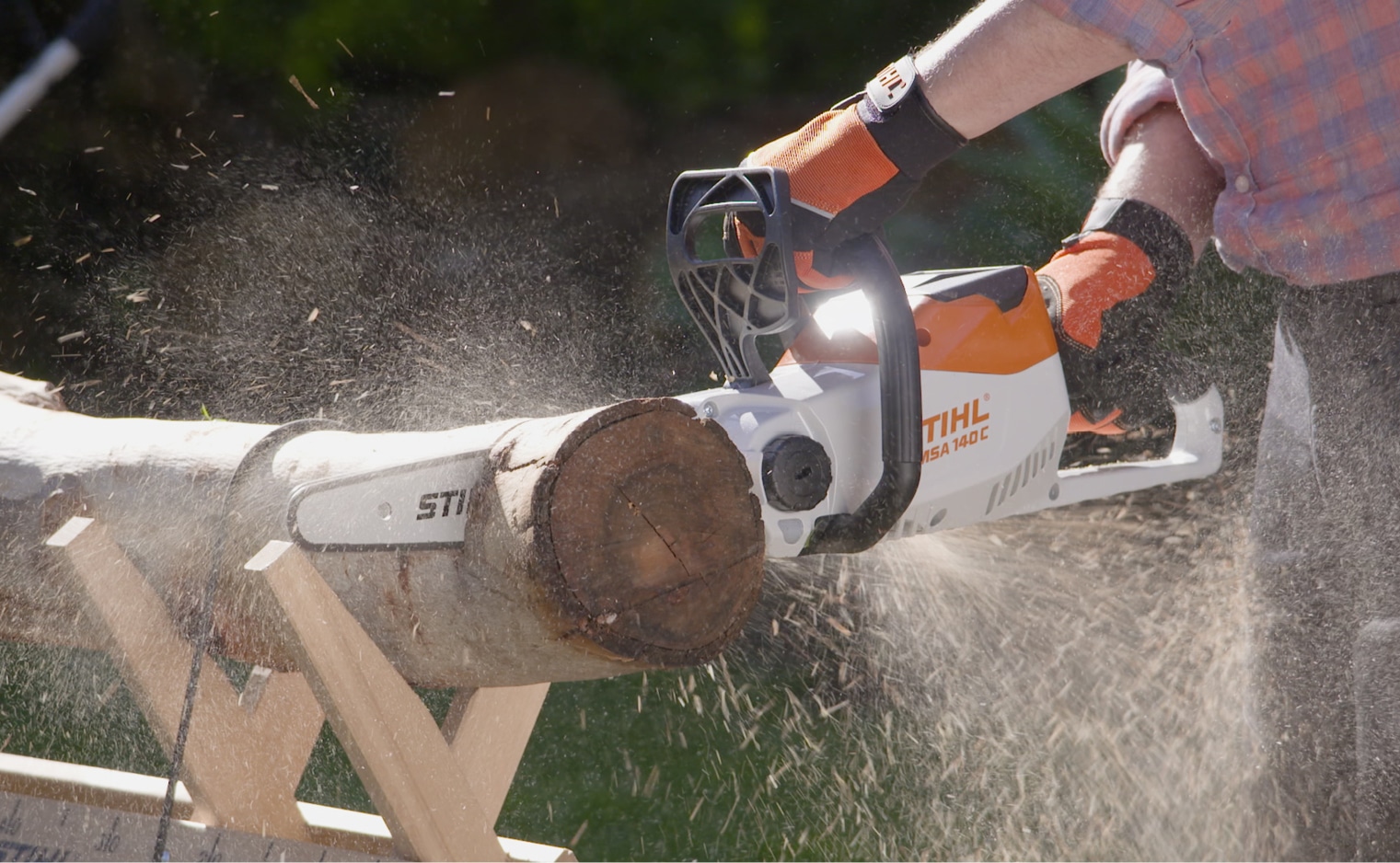 IF I WANT MY HEDGES TO GROW NICE AND TALL AND BUSHY, SHOULD I AVOID CUTTING THEM?
I get asked this question a lot. Some people are hesitant to remove any new growth from their hedges, as they're so excited to see it there in the first place. The truth is, like the hair on your head and the lawn in your front yard, light frequent trimming will actually stimulate and encourage new growth. If you want your hedges to join to create that crisp hedge look, frequent trimming on the sides will cause them to grow outwards and eventually join with the hedges beside it provided you've planted them close enough.
It's also important to make sure your blades are sharp to give you that nice clean and crisp cut. I use STIHL's HSA 86 battery hedge trimmer for low hedges and HLA 85 for my high hedges, both of which have laser cut and diamond ground blades that are made with Swiss precision. If the blades on your hedge trimmer are a little dull, head to your local STIHL dealer for a sharpen and check out some more tips here on how to keep them maintained throughout the year. 
SHOULD WE TRY TO REMOVE BUGS AND INSECTS FROM OUR GARDENS?
Attracting bugs into your garden might not sound like something that you want to do, but it may surprise you to learn that insects are an integral part of any successful garden. Some insects help control and reduce the population of detrimental insects, otherwise known as pests, and are also responsible for the pollination of ornamental flowers and food crops. Providing a safe haven for these insects to hibernate and breed within your garden year round will encourage healthy pollination and keep nasty parasites away. A bug hotel is a great solution, check out our guide on how to make the perfect home to attract the right types of bugs. 
DO LEMON TREES GROW BETTER WHEN URINATED ON?
If you haven't heard the story, many people swear by the fact that when peed on, their lemon tree produces bigger, better fruit and the tree is healthier. The truth is they are right, human urine provides an excellent source of nitrogen, phosphorus, potassium and trace elements for plants, and can be delivered in a form that's perfect for absorption quickly by the plant boosting its growth. So peeing on the lemon tree is usually very good. Be conscious that its raw nutrient and the nitrogen can burn. It can also cause lots of growth and little fruit if you over do it.
IS GARLIC REALLY A NATURAL PESTICIDE?
If you've followed vampire movies you'll know they don't order garlic prawns at a restaurant, and whilst it doesn't kill them it scares them off. The same goes for most sucking insects when it comes to garlic. The pungent aroma and antiseptic straits associated with garlic are too much for most sucking pests like aphids. Chilli is another pungent herb that scares insects off and if it's a large marsupial like a possum that's causing you issues you can upset their sinuses with white pepper or a mix of white pepper and garlic on the foliage, applied on dusk. 
SHOULD I REMOVE ALL LEAF LITTER FROM MY GARDEN DURING AUTUMN?
It's true, excessive leaf litter can smother small plants and leave you with a slightly patchy looking lawn. However, a moderate amount of shredded leaf litter can actually be used as mulch to keep your soil warm during winter and cool during summer. It also improves soil fertility as it decomposes, doubling as a natural nutrient rich fertiliser for your garden. Using either a garden shredder or a blower with a vacuum attachment will help you to achieve the right consistency to get the most out of your leaf litter. I use the STIHL SH 86 C-E blower and shredder vacuum, the metal blade when in suction mode reduces leaf litter by up to 1/14th of its original size, ready for the compost heap. While it's an easy task, there is a level of technique required to get the most of your blower, and we have all of the tips to make you an expert right here.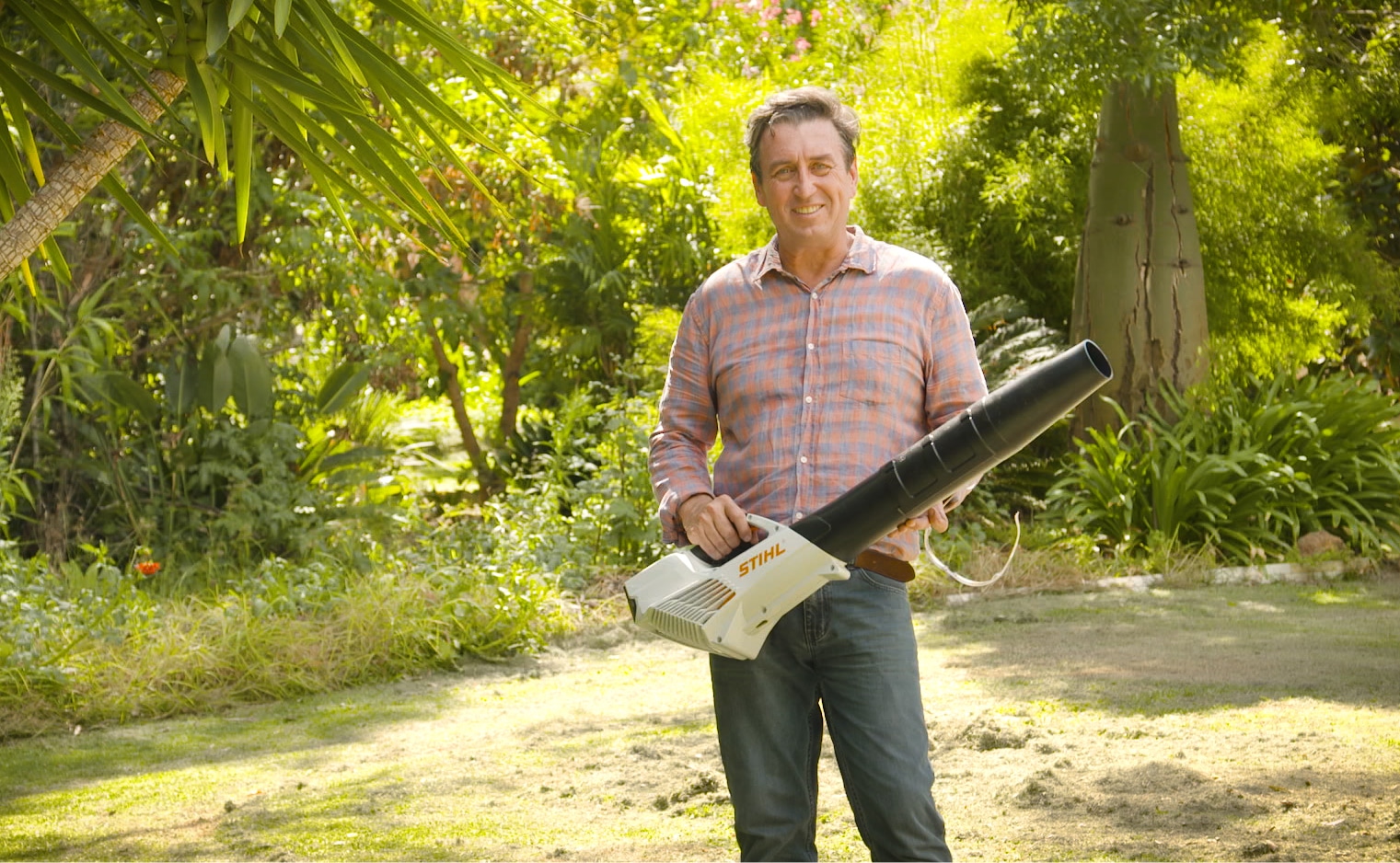 IS IT TRUE THAT VEGETABLES AND FRUIT LOSE CALORIC VALUES AND HEALTH BENEFITS THE LONGER THEY AGE REGARDLESS OF REFRIGERATION? 
In most cases it's absolutely true, and this is why you are best to grow your own fruit and veg at home. The odd exception is probably tomatoes which increase when cooked or aged.
ARE BATTERY POWERED GARDEN TOOLS BETTER LEFT TO SMALLER GARDENS? 
Absolutely not. I am amazed by how many professionals within my networks that have made the switch to battery powered garden tools in recent years. There are so many benefits, such as little to no noise pollution, less vibration, reduced maintenance costs and zero emissions when in use, just to name a few. They are also incredibly lightweight compared to the petrol equivalent, so whether you have a small courtyard to maintain, or you're a professional caring for public parks, they'll help you get the job done with ease. 
IS A STRAWBERRY A FRUIT OR VEGETABLE? 
This is a good one and the answer is complex because the fleshy part we eat is actually a vegetable, the tiny seeds embedded in the outside of the red skin are actually tiny fruits. The brownish or whitish specks, which are commonly considered seeds, are the true fruits, which are known as achenes. Inside these you will actually find a tiny seed and sometimes its not uncommon with older fruit to see tiny plants germinating out of the side of the large red part we commonly think of as a fruit. 
IS GARDENING GOOD FOR YOUR MENTAL HEALTH AS WELL AS PHYSICAL WELLBEING? 
Absolutely, gardening is well documented as a great way for people to overcome stress related illnesses and it's a combination of down time, slowing the mind down to take in the things happening around us, re-engaging our senses and clearing the mind along with natural grounding ourselves with nature that makes such a difference. If you doubt me, try this test. Check your blood pressure. Then grab a beer, wine or cold drink after a stressful day at work, take your shoes off and walk outside on the lawn maybe with the hose in your hand watering randomly where you feel it's needed. Ten minutes later walk back inside and take your blood pressure. I'll bet it's dropped and more importantly that you just feel better. If there's one good outcome from Covid19 it's got to be we are all able to spend some more time in our gardens and this is good for the body and mind.
For everything you need to get your garden ready for Spring, visit your local STIHL dealer.