AUTUMN IS EASY DONE WITH CHARLIE
Autumn gardening is a breeze with the right tools and advice. In this helpful guide, STIHL's resident garden expert Charlie Albone visits the Royal Botanic Gardens Victoria in Cranbourne, where he demonstrates techniques for managing Autumn leaves and debris, pruning trees and hedges, planting and fertilising and preparing your woodstack ahead of Winter.
TASK 1 – LEAVES
'While a thin layer of leaf litter can act as a natural mulch for your lawn, too much leaf cover can eventually kill it off by blocking sunlight and airflow,' says Charlie, who has over 20 years' experience professionally maintaining lawns. 'Secondly, too much debris can keep water from flowing into the soil and can increase the chance of fungus… When it comes to Autumn leaf management, a leaf blower really is the homeowner's best companion.' Read on for more advice on mulching and managing your Autumn debris.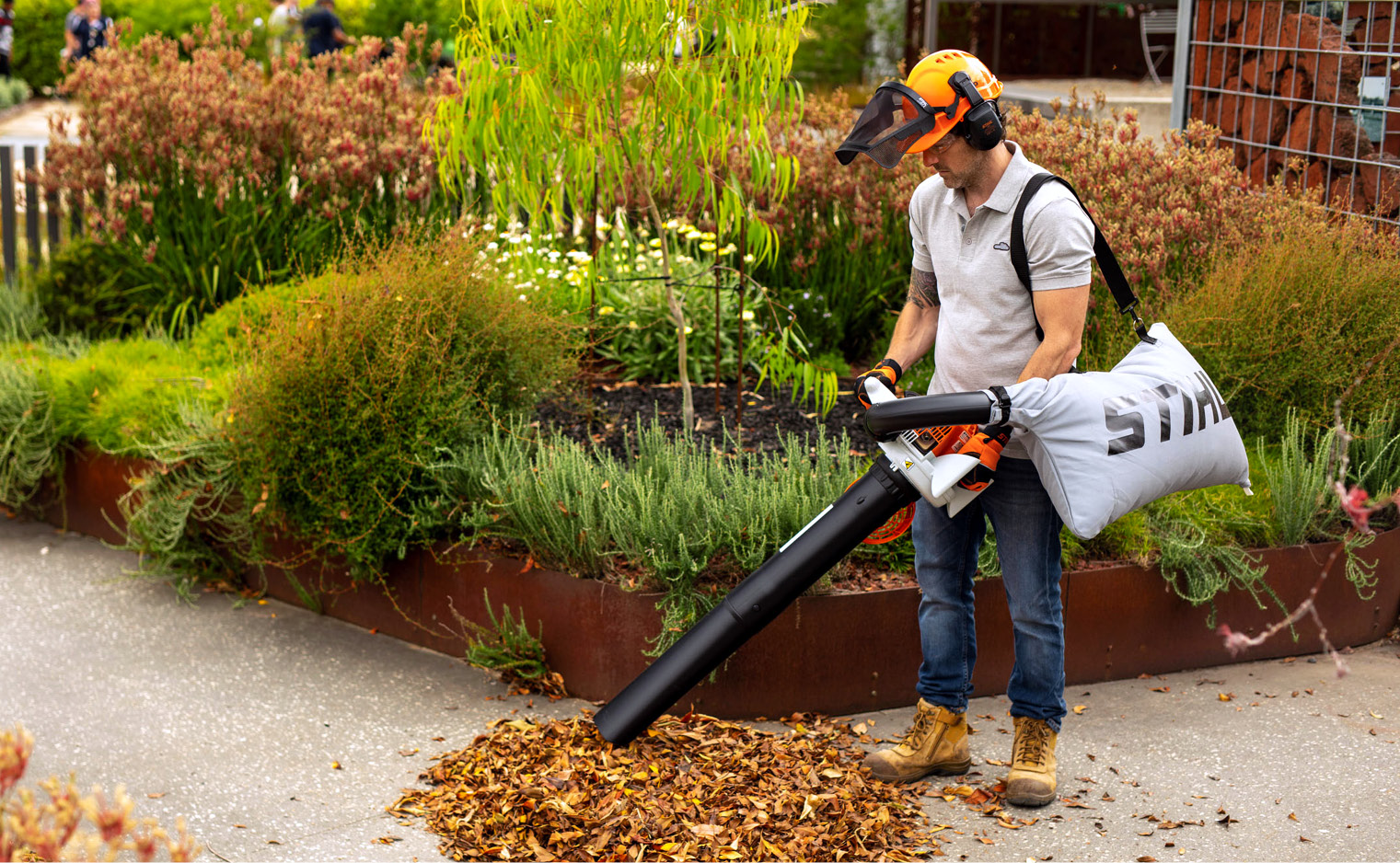 TASK 2 – PRUNING
'Trimming your hedges is something that will most likely need to be done a couple of times in Autumn, maybe three depending on the species of plant and where you live,' says Charlie. 'Once in the early period of the season, then again before the plants go into their Winter dormancy.'
Read on to discover Charlie's hedge trimming and tree pruning tips, and his favourite battery tools for the job.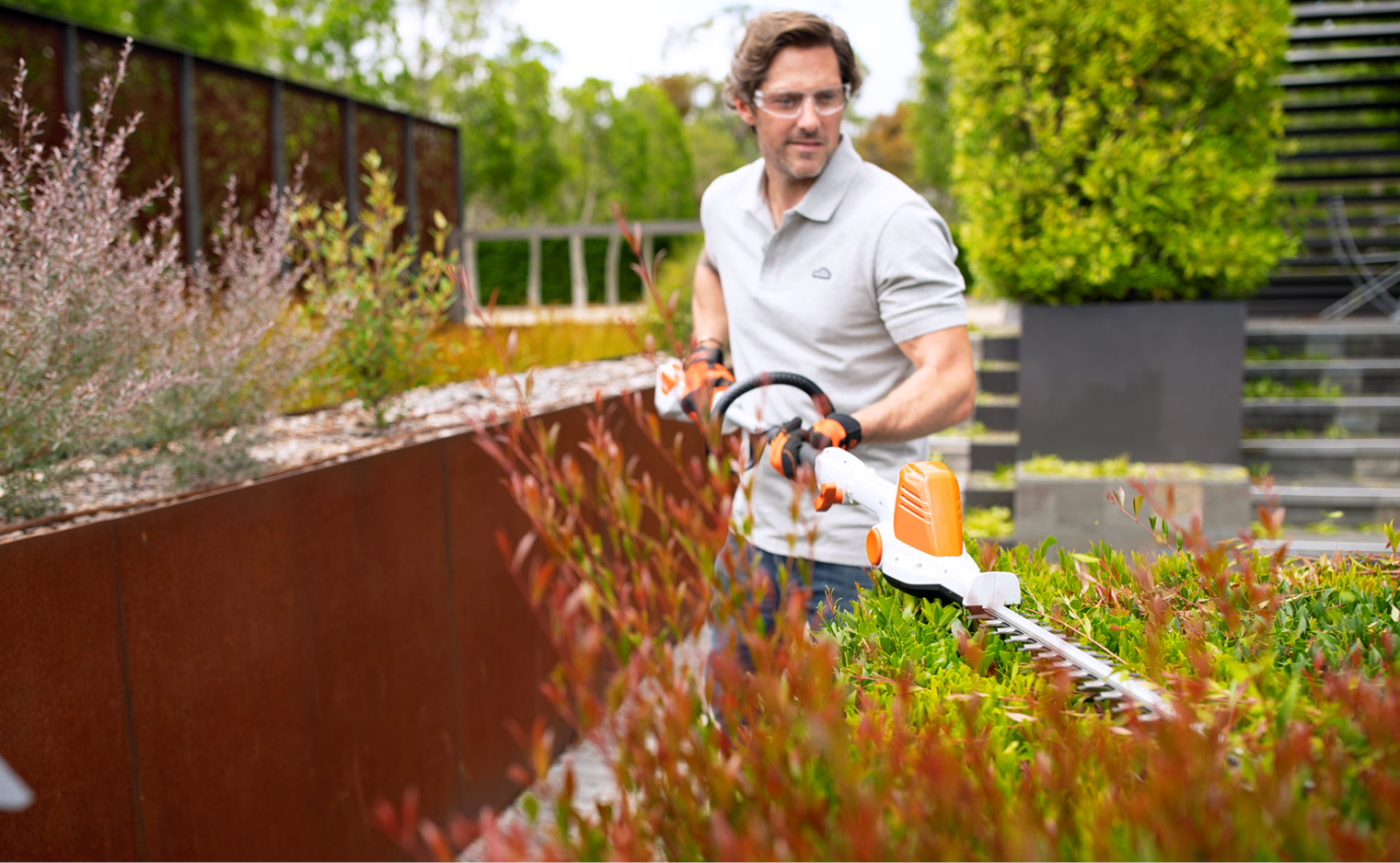 TASK 3 – PLANTS
Autumn is the perfect time to plant because the weather is gentle, there's still plenty of sunlight to encourage root growth and Autumn rains make for moist soils. 'Autumn is also a great time to take cuttings from your plants, as the success rate is much higher when the weather just a little cooler,' Charlie tells STIHL Australia during his visit to Royal Botanic Gardens Cranbourne, where natives like kangaroo paw, Rosemary Dampiera, Everlasting Daisies and Scaevola are on full show.
TASK 4 – WOOD
Building up a good woodstack is serious business, and it's a process that begins in Autumn. In this handy video guide, Charlie demonstrates his top tips for cutting firewood, from sharpening your saw chain to building a well-aerated stack that will dry out your timber ready for burning.
Podcast – 'That's How We Grow'
'That's How We Grow' is a new podcast hosted by STIHL and Charlie Albone. Each episode, Charlie welcomes celebrated gardening experts and growers to talk about the best techniques, trends and tools to make your garden thrive. If your thumb is green, your garden vast and your to-do-list never ending, this podcast is for you.
About Charlie Albone
With over two decades of landscaping experience and two Silver Gilt medals from the prestigious Chelsea Flower Show in the UK, Charlie Albone is best known for his role on Foxtel's "Selling Houses Australia". He now appears on Seven Network's "Better Homes and Gardens" as a host.